The passion I had for the game of baseball started when I was a kid growing up in New York where my family took me to games including the OKbig game 6 World Series win where Reggie Jackson clubbed 3 homers. A few years later we moved to Sarasota FL where the Chicago White Sox had their Spring traing headquaters.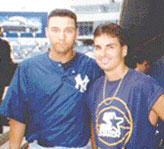 I was lucky enough to get hired as a batboy for the Sox back in 1984 when I was 13.As a kid with a good knowledge of the history of the game,this was heaven on earth to me.I spent all the time I could working in the clubhouse and suddenly the idols that were in my baseball card collection where now right in front of me.You cant top the childhood I had!!
I eventually ended up taking care of the visiting clubhouse and was responsible for taking the clubs equipment on and off the bus,running errands for the players and preparing/ordering the after game meals for the visiting club.I have to thank the White Sox for treating me like family for the 17 springs I worked there when they left for Arizona in 1997.
I had a lot of big league connections so with my entrepreneurial skills I put to use and started SouthsideSports Inc back in 94.This started as just a hobby to make a little side cash.A garage addition was needed to store my extra inventory inventory.From there I moved into a house I purchaced.We outgrew this to bring us to our current store in Sarasota FL.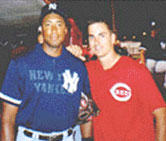 We travel across the country to buy closeouts to offer our customers great deals you wont find anywhere else.You will notice a great selection of the Authentic Collection gear that is only worn on the field.
Family owned and operated,our goal is simply to offer our customers the best name brand merchandise, at the highest quality, for the lowest price.